EQUIPPING YOU TO LIVE A VICTORIOUS LIFE
Victory Church in Grimsby, England, was set up and is led by Pastors Tom and Wendy Hawkins. Tom and Wendy started the church in their home in 1997, with a real desire to teach and train individuals about God's unconditional love and His grace.

No matter where you are from, what background or problems you have had, we want to welcome you to our family. All of us have a story and a background. We are never here to judge but to love unconditionally.
Why not come and discover how Jesus has made a difference to our lives, and how He can transform yours too. Maybe you are already a believer and are new to the area? If so, we extend the hand of friendship to you and would love to meet you.

Victory Church is affiliated with Faith Ministries International (www.fmin.org), led by Bonnie Duell and team.
WEEKLY EVENTS
​
Sunday Service - 10:30am - Noon
​
Wednesday Bible Study - 7 - 8pm (Held in the Icon Room at the Humber Royal).
​
Wednesday Prayer Meeting 8 - 9pm (Held in the Icon Room at the Humber Royal).
​
​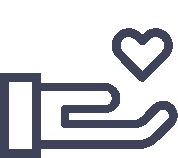 "Whoever is generous to the poor lends to the Lord, and he will repay him for his deed."